Use Webcam with Multiple Programs with ManyCam Virtual Webcam
If you use Webcam software and want to add special effects to your video or add your Web cam with multiple webcam software at the same time ManyCam Virtual Webcam is what you are looking for. It's a free Webcam software that can help you to use your Webcam with multiple software at the same time.
You can also replace your currently installed Webcam with a "virtual" Webcam created with this software. Multiple Webcam software can access your Webcam without any conflict which is another great feature of this software. This free Webcam software is compatible with YouTube CamFrog MSN Yahoo Skype ICQ PalTalk and more. If you want to use this software with your installed Webcam software you have to put this freeware as an input in your Webcam software. You can even change the foreground or background's aspects with this freeware.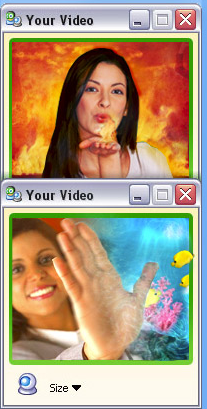 When installing the software it will ask you if you are interested to install a toolbar with it. It comes with user friendly interface and can be used by almost anybody. You can cover your eyes with cartoony eyes or cover your background with flames. You can add your country's flag graphics or just a text in your video window with this free virtual Webcam software.
Features of ManyCam Virtual Webcam:
Replace your webcam with virtual Webcam
Use your Webcam with multiple programs
Add text graphics or special effects to your video
Supports all the popular Webcam software
Manycam Virtual Webcam is available for download at Manycam's official website. It's only 14.72MB in size and supports Windows 7 Vista XP 2003 and 2000. Try ManyCam Virtual Webcam free