Useful Extensions for Google Chrome

If you want to make a few screenshots of a webpage and you don't want to install a specific program you will find a solution from Google. Screen Capture is a cool extension for Google Chrome. Screen Capture allows you to capture a region of a webpage visible content or the whole page. The screenshot will be saved as png. Before saving you can edit the screenshot. Screen Capture supports these edit tools: highlighting redacting and adding text. A great thing about Screen Capture is that it didn't capture a floating object from a webpage twice.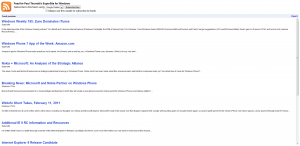 If you like RSS feeds and you use them to stay in touch with the latest news from your favorite websites RSS Subscription Extension is the perfect tool for you. RSS Subscription Extension auto detects RSS feeds from a webpage and allows you to click on it to preview the feed content and subscribe. For now RSS Subscription Extension comes with 4 feed readers predefined Google Reader iGoogle Bloglines and My Yahoo but you can also add your favorite web-based feed reader.
Download Helper is a great extension if you don't like the integrated download manager for Google Chrome and you prefer download managers like FlashGet FlashGet Mini Thunder Mini Thunder and more. You can choose only a link to be downloaded or you can download any downloadable links. Using the experimental API you can integrate download helper menu into system context menu.