Video DownloadHelper: Free Firefox Extension
Video DownloadHelper is a free Firefox add-on that helps you to download image and video files from websites easily. You will be able to browse the internet like you are used to do and download videos from popular websites including YouTube DailyMotion MySpace iFilm Google Videos DreamHost Porkolt and others.
You can download web contents easily using this free Firefox extension. Just browse the page with your preferred content and this freeware will detect the content automatically and allow you to download the file with just a single click. For example you can go to a video page and then download the video file directly on your PC. When you are browsing a page that contains a video movie audio file or images you will be able to download all of them at once or separately.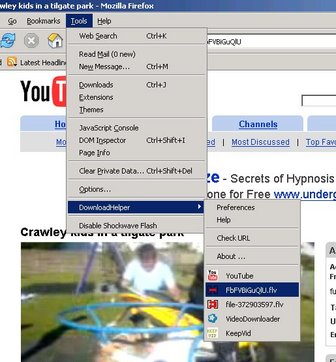 This free Firefox plugin is very easy to use. For downloading a file you just have to move your cursor on top of the item and you will find a menu showing the links for downloading them directly. You can also make sure that the link is showing the file you want to download once you get to see the link. You might find the interface difficult at first but once you understand the whole process it's very easy.
Features of Video DownloadHelper:
Download videos and images from websites
Supports YouTube DailyMotion MySpace iFilm Google Videos DreamHost Porkolt and others
Video DownloadHelper is available for download at DownloadHelper's official website. It's only 666KB in size and supports Windows 7 Vista and XP. Try Video DownloadHelper Free