Watch Online TV for Free with FreeZ Online TV
FreeZ Online TV is a freeware that gives you access to more than 500 online channels for free. There are many online TV software out there that offers free online channels but none of them actually offers what we expect from them. FreeZ Online TV is just like these software. It is small in size but you won't like the channels offered by this free online TV software. You won't be able to get access to these channels directly as it requires some additional downloads from two other websites that are not even related to this software.
Even if there are some additional downloads you have to do this free online TV software comes with an easy-to-use interface. You will get to see a big number of categories including Entertainment News and Weather with the viewing screen and all these categories are filled with lots of channels. But the disappointing thing about this software is you won't be able to play some of them and most of them are not in English. Just click on the name of the channels and you can start seeing them.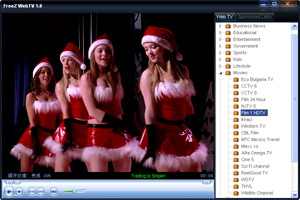 The channels are randomly selected and there is no guide available to them. You will be able to rate each channel but there is no option to add your own channel or delete them. The installer is only 819kb in size and supports Windows 7 Vista XP 2003 2000 Me and 98. So if you are looking for a free online TV software with working TV channels listing you are going to be disappointed.
Features of FreeZ Online TV:
Get access to more than 500 online channels for free
Doesn't require any additional PC TV or other hardware
TV station updates will be provided automatically
Supports Windows 7 Vista XP 2003 2000 Me and 98
Try FreeZ Online TV Free