Advanced ETL Processor: A Powerful Code-less Business Tool
Advanced ETL Processor is an advanced business software that can help you to extract data from databases to automatically create a new database. You can use data from any database and transform then or validate them to load them into a new database. It's a unique technology that can help you to create a database just like you saw somewhere.
This useful business software can be used for creating databases easily and can help you to save a lot of time in transformation and validation processes. You will be able to see how the data is transformed and validated to a database or data warehouse without even loading it. If you want to see the process just click on the preview button. You will be able to see the ETL process in this way. You can extract data from any excel file or any data formats and sort data from there. You can create a duplicate of it or load the data to create another database. Once all the data is loaded you can run SQL script or stored procedure.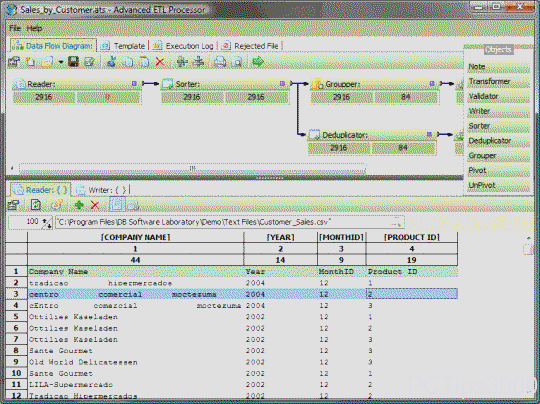 This powerful business application comes with advanced user interface. You can define keys for adding new updates from the old database records. Advanced ETL Processor works directly with Oracle Excel MS Access Text files and DBF. It works with almost all the software that supports ODBC compliant database. Moreover you will be able to load data from multiple files at the same time.
Features of Advanced ETL Processor:
Extract data from any database and create a duplicate database with the data
Supports Oracle MS Access Excel Text files or any ODBC compliant database
Extract data from multiple files at the same time
Advanced ETL Processor is available as a free 30-day trial version for users who wants to try it before buying it for $340. Try Advanced ETL Processor Free