Google must die. I have nothing special against it it's only the fact that Google must die and be reborn. What happened recently with a lot of sites is nothing more but an unfortunate event for most of them since there are still plenty of spammers who have nothing to worry about. On the other hand the more Firefox addons like Amplify (and the site behind it of course) I get to see the less I feel the need to use Google's search... so let's take a closer look at today's Firefox addon shall we?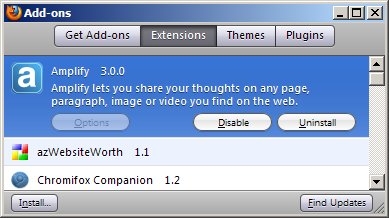 While the last update of the Amplify Firefox addon came up back in early May of the last year this entire thing feels pretty fresh to me. Anyway before moving on let's see those numbers: we're talking about Amplify 3.0.0 compatible with Firefox 3.0 - 4.0.* and having a rating of 5/5 stars after 71 user reviews and no less than 543515 downloads. I know there are quite a few Firefox addons with over one million downloads but the numbers above still look pretty impressive to me especially since we're not talking about a YouTube video downloader or Firefox speed up addon... ;)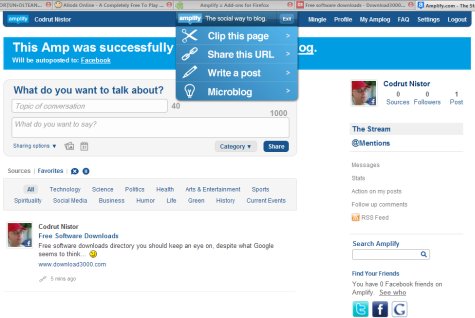 I know some will surely say that Amplify isn't a brand new idea but it surely gets the job done well - you get your own personal and fully searchable Amplog you can easily share stuff on Twitter or Facebook without having to bother to create a new account it even works directly from Google Reader and - at least in my opinion - it surely doesn't mess your browser's interface - there's only a small button that will be added and nothing more. Well I guess that's all - we could be talking about Amplify for ages but I think best thing to do is take it for a spin so... what are you still waiting for Easter? Get to it!!!