Assess Network Security with Microsoft Baseline Security Analyzer 2.1.1
Microsoft Baseline Security Analyzer or MBSA is a freeware application that can be downloaded from the Microsoft's official website and can be installed on Microsoft Windows XP Windows Vista Windows 7 Windows server 2003 and Windows server 2008 operating systems. The application is capable of gathering the security logs of the operating system on which it is installed which can then be used as a reference report to assess increased overhead that the machine faces as the time goes by. In other words MBSA can be used to generate a baseline report of the state of a computer just after a fresh operating system is installed the bare metal machine. Since the application can be used on any of the above mentioned operating systems it is versatile and can be used to assess the security of almost every computer in corporate office.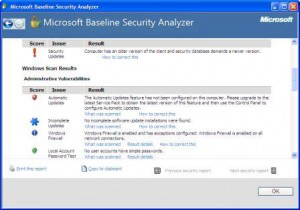 Pros
Can generate reports which are in easy to understand formats and therefore administrators can view the status of the machines at a single glance.
Since the product is from Microsoft itself it gets tightly integrated with any of the operating systems mentioned above to provide maximum output.
The application comes for both 32-bit and 64-bit operating systems.
Cons
No cons are experienced or reported while using Microsoft Baseline Security Analyzer or MBSA till date.
Download Link (x86): http://www.microsoft.com/downloads/info.aspx?na=46&SrcFamilyId=B1E76BBE-71DF-41E8-8B52-C871D012BA78&SrcDisplayLang=en&u=http%3a%2f%2fdownload.microsoft.com%2fdownload%2fA%2f1%2f0%2fA1052D8B-DA8D-431B-8831-4E95C00D63ED%2fMBSASetup-x86-EN.msi
Download Link: (x64): http://www.microsoft.com/downloads/info.aspx?na=46&SrcFamilyId=B1E76BBE-71DF-41E8-8B52-C871D012BA78&SrcDisplayLang=en&u=http%3a%2f%2fdownload.microsoft.com%2fdownload%2fA%2f1%2f0%2fA1052D8B-DA8D-431B-8831-4E95C00D63ED%2fMBSASetup-x64-EN.msi