Defragment Hard Disks Faster and Easily with Defraggler 2.04.297
Defraggler a freeware application that can be downloaded from the official website to defragment the hard disks attached to the physical computers. Unlike Windows built-in defragmenter utility which allows users to defragment only the drives Defraggler enables users to specify the target locations even more granularly. This means that with the help of this application users can defragment not only their logical drives but also specific files or folders. The graphical interface of the application is also quite user friendly as it clearly displays the fragmented and/or empty blocks separately. The graphical interface also displays the area which cannot be defragmented while defragmenting disks.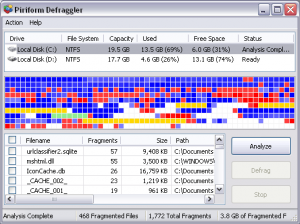 Pros
The application offers single touch actions which allow users to defragment their computers easily.
With the help of this application users can also schedule defragmentation tasks so that they can reduce additional overhead which they may otherwise have to face while using Windows built-in defragmentation utility.
The application can also defragment system files at the time system boots up.
Since the application is precisely developed for the purpose it fragments the hard disks comparatively faster.
Cons
The only additional overhead that is required in order to use Defraggler is that it needs to be downloaded from the Internet.
Download Link: http://www.piriform.com/defraggler/download/standard