Automate Your Tasks with Journal Macro 1.84
Journal Macro is a shareware application that can be used to automate the tasks. The tool is not a scripting language but is a graphical user interface application that records the keystrokes and mouse movements and clicks and then plays them as per the schedule. All the events are recorded in a macro file that has .jm extension. The best part is that if a person has several tasks to initiate at a single time he can call another macro file while playing one macro. Moreover users can repeat the tasks as many number of times as they want and they also can set the delay intervals between two tasks.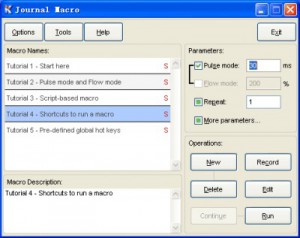 Pros
Multiple events can be recorded in a single .jm file.
Script based .jm file can created by defining mouse movements and keystrokes manually.
Delay intervals are calculated in the unit of milliseconds and therefore the application can considerably expedite the tasks.
Recording can be initiated using shortcut keys.
After installation of the application multiple .jm files can be created and can be scheduled at different for same times.
Cons
The application is only compatible with Windows XP service Pack 3 or below operating systems.
Users may find Journal Macro complicated at the initial stage because of its overpopulated interface.
Download Link: http://www.chosensoft.com/