Automate your tasks with TimeComX
There are many tools for automating simple tasks like restart shutdown log off lock computer hibernation suspend and more. One great program for automation is TimeComX. TimeComX can perform various actions after specified time or by a lower deviation of network/processor usage and input device activity. With TimeComX you can do the following automations: Restart Shutdown Log Off Lock Computer Hibernation Suspend Mode Wake up play alarm play any type of audio-file (mp3oggwmawav..) execute files ( e.g. batch files ) and create screenshots before an action.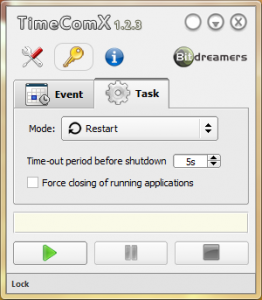 If you want to use the wake up function in Windows 7 or Windows 2008 R2 you should go to"advanced power settings" and enable "Allow wake timers".  Also if you want to use hibernation mode you should ckeck your BIOS and see if your computer supports S4 power mode.
TimeComX can be used on a USB drive. Just copy the whole install directory to your USB drive. The settings will be saved in "TimeComX.ini". If you want to keep your settings safe you can protect them using a password.  Also you can setup a transparency level of TimeComX.
TimeComX is available for download here.