Quick tip: Sign out remotely from Gmail
If you are using your Gmail on a shared computer you have to make sure that you don't forget to sign out after using it. but what if the the worst happened and you used your Gmail in the library and don't remember if you signed out or not? For sure this will be a problem you will be afraid if someone using it. Don't worry we have the solution for you I'll show you how to  sign out from Gmail remotely.
If you scrolled down in Gmail in the footer you can see in a small font text: "Last account activity: 1.5 hours ago on this computer.  Details"

tick on details and you will be able to see computer IP address who use/used  your Gmail account.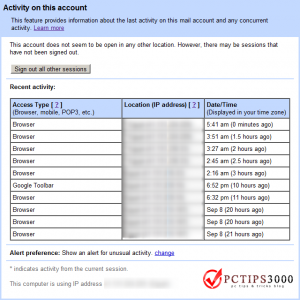 if you see the same IP it will be probably your computer IP but if you see different IP logged in your Gmail. Tick on "  sign out all other session " so it will sign out your Gmail account on any other computer accept your computer And it is recommended to change your account password and security question And always remember to stay safe with PCTips3000.com.