Backup Data on Computer Easily with SyncBack 3.2.26.0
SyncBack 3.2.26.0 is a small sized freeware utility used to backup and restore sensitive data from the computer system. The easy-to-use interface offered by the application enables even non-technical users to work in an efficient manner hence securing their confidential information at the best. The application also has a built-in synchronization feature which can be used when two or more machines are connected to each other. In other words data from one machine can be synchronized with the information stored on the other computer therefore providing consistent data throughout the network environment. The version of the application that is downloadable from the official site is fully compatible with both 32-bit and 64-bit versions of Windows Vista and Windows 7 operating systems.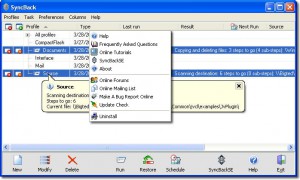 Pros
The application is capable of taking the backup of live documents that is the backup of the files which are opened.
SyncBack 3.2.26.0 also has feature of Incremental Backup which saves a lot of time and disk space by taking the back of only the files which are new.
The application compresses the backed up files in order to occupy comparatively reduced amount of disk space while saving them.
Just like Microsoft Windows the application maintains the record of previous versions of any files or folders.
Cons
No cons are experienced or reported while using SyncBack 3.2.26.0 till date.
Download Link: http://www.2brightsparks.com/assets/software/SyncBack_Setup.zip