Become Successful Network Professional with Boson NetSim Router Simulator 8
Boson NetSim Router Simulator is shareware software precisely used for educational purposes. Evaluation copy of the simulator can be downloaded from the official website to get the feel of the application. However few functions would not work in the trial version. As the name says the software simulates the network infrastructure in which routers are involved. It provides simulated routers and network switches which are capable of accepting user commands and throwing outputs accordingly. The students who are preparing for their CCNA or CCNP certification can find the application quite useful as they can create complex topologies before they finally appear for their exam. With the help of this software students can create a complete network scenario virtually though and can practice on it as if they are working in the production environment.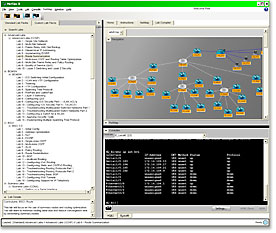 Pros
The application contains almost every series of routers switches bridges etc. This eliminates the requirement of any physical device while preparing for global certification.
Requires very less processing speed and memory and the entire topology can be created and saved on a single PC.
Automatic updates are enabled by default which helps the software synchronizing with the server and adding new devices and features as soon as they are available.
Cons
Since the application is a simulation program and not actually a router it responds in the way it is designed. This means that if the programmer made any mistake while developing Boson NetSim Router Simulator there are chances that users (students) may get false outputs.
Download Link: http://www.boson.com/download.html