Get Audio CDs Right into the Computers with Audiograbber 1.83
Audiograbber is now a freeware tool which is used to convert audio CDs to MP3 or WAV format. The word NOW is used in the preceding sentence because legacy versions of the software were commercially sold in earlier days. However evaluation version of the application was still available on the official website. The software is mostly liked by the people who already have audio CDs and now there CD players are considered obsolete. In these cases people may want to convert their audio CDs to MP3 or WAV format so that the songs can be played on MP3 players or directly on their desktop or laptop PCs. The application automatically detects the audio files in the audio CD and can grab and convert them to the selected file format.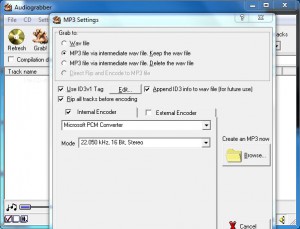 Pros
Can be used to capture audio CDs' contents and convert them to the desired file format.
Winamp compatible files can be created that contain tags.
Normalization feature is also available with the application which is useful when the audio quality is not appropriate and needs some equalization.
The software is approximately 3.52 MB in size and therefore it does not consume extra processing or RAM.
Cons
Since the application contains several buttons and tabs users might sometimes get confused while choosing the appropriate configurations before converting the audio CDs with Audiograbber.
Download Link: http://www.audiograbber.org/download.html