Belarc Advisor: Free System Utility
Belarc Advisor is a free system utility that can create a detailed report of your installed hardware and software. This detailed report includes results found in your web browser software serial numbers and Microsoft Hotfixes. It is not possible to hire a professional computer security consultant for most home PC users and that's where Belarc Advisor comes in.
You can find your PC's weak point with the help of this free system utility and try to fix or repair it. You can easily check if your antivirus software is up to date or if all the security flaws in your PC are fixed properly. This freeware will use the Center for Internet Security benchmark for checking your PC and give you a score based on the overall security level available in your PC. This report can be checked from your web browser. This freeware can also provide you a report on your computer's physical components to let you know how much RAM you have or what the size of your hard disk is.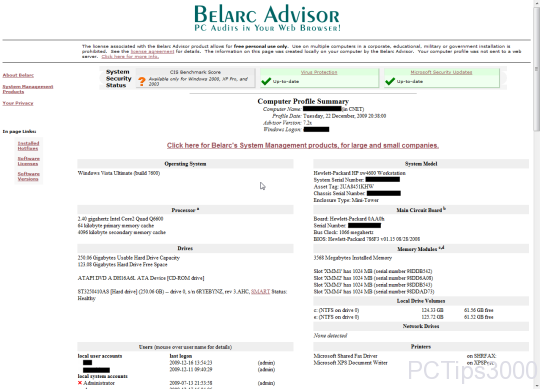 This freeware comes with an easy to use interface. But this free system utility won't fix your problems and will advise you on how to fix these problems properly. If you are thinking about a hardware upgrade or want to secure your home systems you should definitely try this free system utility.
Features of Belarc Advisor:
Creates detailed profile of your hardware and installed software
Checks for security flaws in your PC
Uses Center for Internet Security to check your PC's security level
Belarc Advisor is available for download at Belarc's official website. It's only 2.73MB in size and supports almost all versions of Windows including Windows 95. Try Belarc Advisor Free