Comodo Dragon: Free Web Browser
Comodo Dragon is a free web browser that comes with all the attractive features that you expect to see in a browser with good privacy and security features. If you are a Google Chrome user and want to change your browser with another fast browser but is cautious about your security Comodo Dragon is the best option for you.
You will be amazed to see the speed of improved page loading and graphics rendering. This free internet browser was tested with Google Chrome in Microsoft Windows XP Service Pack 3 and we saw that Comodo Dragon was slightly faster than Google Chrome. However Google Chrome was slightly faster than Comodo Dragon when we tested them with Sunspider JavaScript benchmark. You can enjoy uninterrupted browsing with this free web browser even when a plugin is crashed by refreshing the page.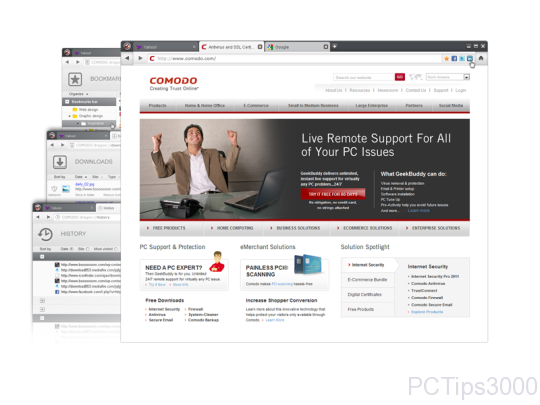 This free browser's window looks simple and clean and you can use this freeware easily. The window is not filled with numerous icons which mean you get more space for viewing websites. Comodo is well known for its firewall software and you will understand why it's popular once you start using this freeware. Your browsing information remains secure as this browser don't send them to a remote server. The search box and address bar is combined which makes navigating the web more easy. The latest version comes with major performance improvements and attractive start-up times.
Features of Comodo Dragon:
Browse the internet faster and securely
Attractive graphics rendering and page loading speed
Major performance improvements and fast start-up times
Comodo Dragon is available for download at Comodo's official website. It's only 22.85MB in size and supports Windows 7 Vista and XP. Try Comodo Dragon Free