Buy 2, Get One Free - Diskeeper's 2010 Christmas Deals
Christmas cleaning gifts guests... I hate it all! Seriously I really hate this time of the year but not because I'm some evil hermit hidden in a hut - it's simply the fact that some people only seem to remember about your existence during such periods. Hey there are also weekends you know... but let's get to our "get one for free" promotion now shall we?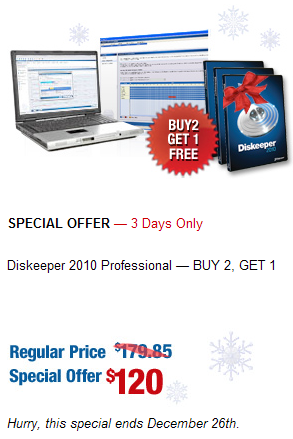 About two hours ago I got a new email from Diskeeper Corporation - I am sure you can read what's really important from the image above right? Saving 60 bucks and making two friends happy surely doesn't seem like a bad idea don't you think?
I am sure there's no need to tell you how important is to keep your computer in shape by cleaning its registry and defragmenting your drive and if you hurry up and take advantage of this offer you'll get Diskeeper 2010 Professional for a really good price (I have to be honest - I think that its regular price is higher than it should be but having 3 licenses for 120 bucks sounds good to me).
Oh yeah - here's one more interesting deal (I almost missed it they should have used larger text for it after all there are a lot of people on a budget these days...): you can also get 3 for the price of 2 if you purchase Diskeeper 2010 Home. More details about it here. Hurry up only three days remaining to get three licenses for the price of two!