Migrate your OS to a SSD drive for free
One of the best upgrades for any computer is replacing your normal HDD with a SSD drive. The SSD drives contain no moving parts and this makes them perfect especially for laptops/netbooks. It is recommended to put your system files on a SSD drive and your old HDD to use it as storage. But you will have to install your operating system so this will take more time.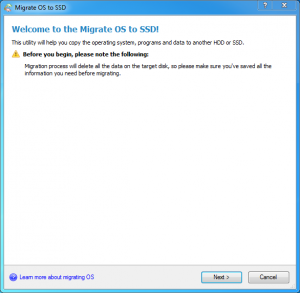 Don't panic. There is a simple and faster solution. You can move all your software environment (an operating system and applications) to the new SSD drive in no time. Paragon Migrate OS to SSDÂ transfers Windows (any version since XP) to a smaller capacity disk in a single operation you can now simply and efficiently migrate OSs from a high capacity HDD to a speedy new SSD. Paragon Migrate OS to SSD can align the partitions on the destination disk and also you can select what files you want to exclude from the migration process.
If you want to move you Windows 7 installation Paragon Migrate OS to SSD detects and copies MSR.
Normally this program costs $19.95. Â But now you can get Paragon Migrate OS to SSD for free. Just go to the promotion page which is in German. Complete the form with your personal data and press Bestatigen. In a few seconds you will receive an email with the download link the product key and the serial number.