Calculate Currencies with Currency Gadget
Currency gadget is a freeware built in application which is installed along with Windows 7 and Windows Vista. The application can be used to calculate the currency and the conversion ratios almost instantaneously. This application is quite useful for the people who deal in international trades and/or are into forex business. The best part of the software is that it automatically calculates the currency of all other countries which are added to the gadget if any one currency value is altered. In other words the software offers one-stop shop to calculate all the desired currency exchanges by typing just one value. You can add as many countries and currencies as you wish and can watch the fluctuation on a real-time basis.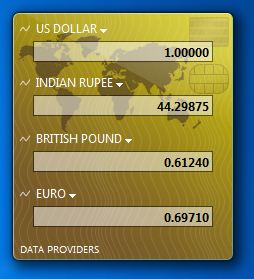 Pros
Automatically synchronizes itself with the server.
Supports the currencies of almost every major country.
The software needs not to be downloaded as it is built in feature provided by Microsoft Windows itself.
Can prove as a complete solution for the people who trade in forex.
Cons
Needs continuous connection to the Internet failing to which the synchronization may not take place and the latest currency updates will not be displayed to the users.
Currency gadget needs to be initiated though not downloaded before users can use the software.