Burn and Extract ISO Images with UltraISO
UltraISO is a shareware application which can be downloaded as a trial version from its official website to get the feel of it. The software can be used to create extract or burn ISO images with minimal efforts. The application is very lightweight and gets installed almost instantaneously. It also interacts with the CD/DVD writer/ROM and hence allows users to extract or burn directly from and to the physical media easily and quickly. The application also creates virtual DVD-ROM drives which can be used to mount ISO images for testing purposes. Users can create as many number of virtual DVD-ROM drives as they want of course till they run out of drive letters.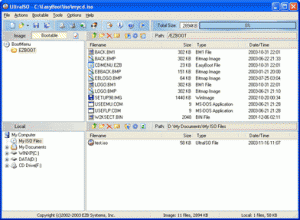 Pros
The file is very small in size and therefore it consumes very less processing.
The software can be used to extract ISO images even an evaluation version.
Games that require physical CDs to be inserted before playing can be played by mounting the ISO images on the virtual DVD-ROM drives which are created during the installation of the application.
Can burn the ISO images directly from the interface and no additional overhead is required.
Cons
Users cannot create the ISO images of more than 300 MB in size while using the software in evaluation period.
UltraISO can be used for creating and extracting ISO images only and cannot perform any audio or video conversions like other burning applications.
Download Link: http://www.ezbsystems.com/ultraiso/download.htm