CCleaner: A Powerful Invalid Registry & Junk Files Cleaner
If you are trying to get rid of unused files invalid registry files and junk files it's CCleaner you are looking for.  It's a free diagnostic software that can optimize your system and also work as a cleaning tool. It is a powerful file cleaner that can remove unnecessary files automatically and free your precious hard disk space.
This free diagnostic tool also helps you to protect your privacy as you can clean all the trace of your online activities including cookies and internet history. The latest version supports HTML 5 offline cache cleaning and supports Firefox 5.0 beta. When cleaning files you can choose options like a Department of Defense-level three pass option simple one-pass overwrite options and other useful options. Choosing these options will make the cleaning process slower. Another improvement noticed in this latest free system utility is the options added with the existing features. You can now keep the internet cookies you want and delete the others.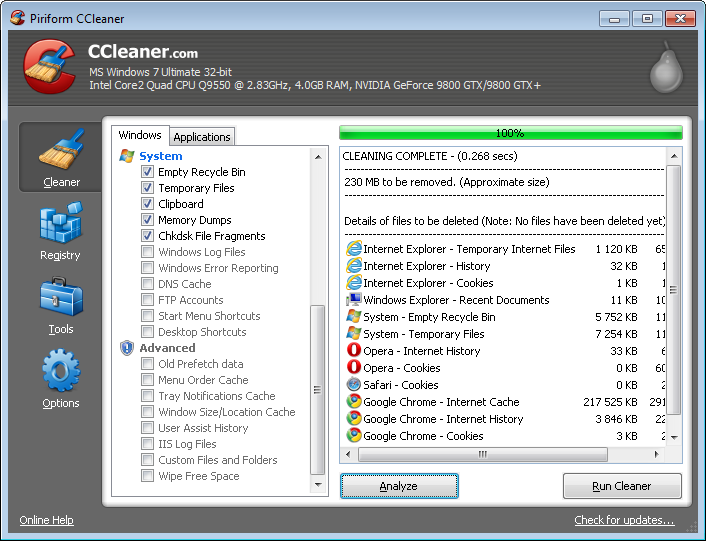 The latest version of this free powerful file cleaner supports Microsoft Silverlight Isolated Storage LogMeIn Hamachi Windows Game Explorer AVG 2011 and Audacity. If you are not familiar with this free system optimizer it can delete temporary files clean invalid registries empty your recycle bin and clean traces of other programs. When tested the latest version of CCleaner was noticeably faster than the previous ones.
Features of CCleaner:
Cleans junk files and keeps your PC clean
Removes all the traces of online activities and protects your privacy
Supports all the latest browsers like Firefox Safari Chrome and Opera
CCleaner is available for download at Piriform's official website. It's only 3.29MB in size and supports Windows 7 Vista XP and 2000. Try CCleaner Free