Cert Viewer Plus: Free Firefox Plugin
Cert Viewer Plus is a free Firefox plugin that can display data about security certificates and add enhancements to the viewer. This free plugin adds the feature to display PEM file data in Firefox's certificate viewer. Let's see what this free Firefox add-on has to offer.
Once you add this free plugin in your browser you will be able to export files and view the certificates in PEM format. You will also see two new options in your certificate viewer opening X.509 certificate in PEM format or saving it as a file in DER or PEM format. If you open RFC 1421 or Base64 it will open in a new window. Moreover you will be able to get access to the certificate manager from the tools menu directly. This free Firefox extension adds a good feature to Firefox and makes it more useful.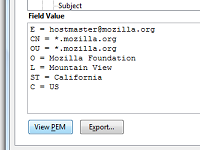 The installation process of Cert Viewer Plus is very easy. You just have to open the add-ons manager in Firefox and then open Cert Viewer's page for downloading the plug-in. You will find some helpful information on Cert Viewer's official page and some information about configuring the PEM window. Once you open a certificate in PEM format you can edit it save it or print the required data. If you are an advanced Firefox user or regularly use the certificate manager in Firefox you are going to love this free Firefox certificate manager extension.
Features of Cert Viewer Plus:
Adds enhancements to Firefox browser's certificate viewer
Get direct access to certificate manager
Easy-to-use simple interface
Cert Viewer Plus is available for download at Mozilla's add-ons website. It's only 30KB in size and supports Windows 7 Vista and XP. Try Cert Viewer Plus Free