Charny Screenshot Tool: Free Screenshot Capture Tool
Charny Screenshot tool is a free screenshot capture tool that helps you to capture your desktop and share your desktop activities with others. You can capture the entire desktop or just the active window and share the screenshot easily with others.
If you are thinking about sharing your desktop activities with other users or just want to create a tutorial using screenshots Charny Screenshot tool is what you are looking for. You can make educational tutorials and start capturing the entire desktop or just the active window. This freeware comes with all the basic features that you expect to see in a free screenshot tool. Moreover you can assign hotkeys for different actions like capturing the entire desktop active window or just regions of the screen. If you still depend on the print screen button for capturing screenshots it is time that you start thinking about trying Charny Screenshot tool.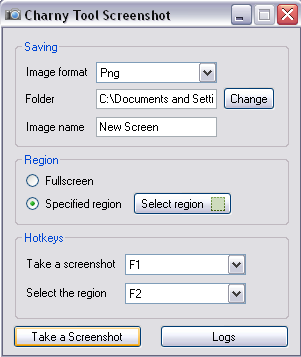 This free screenshot capture utility is very easy to use and comes with a simple user interface. You can save your captured images in PNG JPEG TIFF BMP and GIF. You can choose the destination folder where all the images will be stored and you can also select the image name. If you want a simple free screenshot capture tool for capturing screenshots you can try Charny Screenshot tool.
Features of Charny Screenshot Tool:
Capture desktop or just an active window
Set different hotkeys for different actions
Simple easy-to-use user interface
Charny Screenshot tool is available for download at CharnyGames's official website. It's only 29.52KB in size and supports Windows. Try Charny Screenshot tool Free