Liberty Disk Manager: Free Disk Space Manager
Liberty Disk Manager is a free disk manager that helps you to monitor the free space on your hard disks and folders and manage them easily. This freeware will monitor the status of disk drives and will show you the current state of your disk the amount of free space available and the free space threshold.
This free disk management software can add partitions and you can easily modify or delete it whenever you want. You can organize all the available free space easily and remove unwanted files and folders easily from your PC. You can also directly upload folders or files to FTP servers and free up some disk space. You can also schedule a copy time at your preferred time and save all your activities in a log. You can clean unwanted files manually or let this free disk space manager handle things automatically.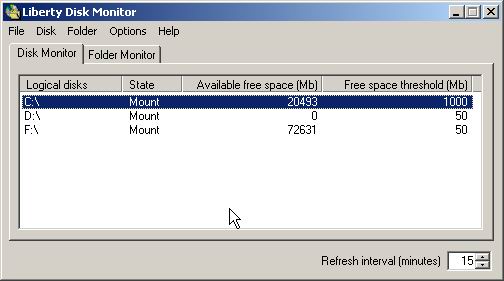 This free disk management utility is easy to use and comes with a simple user-friendly interface. But the negative side of this freeware is the way to move or copy operations in this freeware is not simple. The options this free disk manager offers are nothing new. But if you are looking for a simple free disk manager or free disk clean up utility for your hard disk you can try Liberty Disk Manager.
Features of Liberty Disk Manager:
Automatically delete old unwanted folders
Upload files or folders directly to a FTP server
Manage the free space on your disks easily
Liberty Disk Manager is available for download at Liberty Recording's official website. It's only 622KB in size and supports Windows 98 or higher. Try Liberty Disk Manager Free