Check Windows 7 Compatibility with Windows 7 Upgrade Advisor
Windows 7 Upgrade Advisor is a free downloadable tool that can be obtained from the Microsoft's official website. The application helps users assess if their computer systems are capable of installing Windows 7 operating system. The application informs users the incompatible peripherals or hardware configurations which are responsible for obstruction in the installation of Windows 7 on a particular system. Moreover the software also suggests as which component of the computer needs to be upgraded or added in order to install the specified version of Windows 7 operating system. There are few prerequisites which are required to be present on a computer before installing Windows 7 Upgrade Advisor on the machine.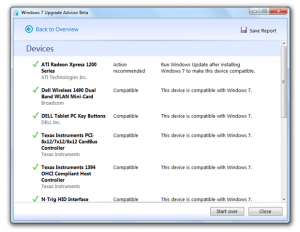 Pros
The application is small in size and easy to use and provides user-friendly interface which helps users assess the current state of their computer systems.
The software is also capable of suggesting the appropriate version of Windows 7 operating system on the basis of current configuration of the machine especially when users do not intend to modify or upgrade the hardware.
Cons
Users need to plug-in any additional hardware devices before using Windows 7 Upgrade Advisor failing to which they may not get the accurate results and may end up experiencing problems when they install additional devices after installing Windows 7.
Download Link: http://www.microsoft.com/downloads/en/confirmation.aspx?FamilyID=1b544e90-7659-4bd9-9e51-2497c146af15&displaylang=en