Clean and Fix Registry Problems with ARO 2011
ARO 2011 is a free system utility that can help you to handle all your registry files and clean junk files. ARO was known as Advanced Registry Optimizer earlier but now it's Advanced Repair and Optimization. This system optimization tool can improve your PC's performance while cleaning system junk files and removing errors from Registry files.
If you are worried about your PC's security then you don't have to once you start using this free system utility. It deeply cleans all the system junks and scans properly for security risks. But the problem with the free version is it will clean only temporary internet junk files and you will be able to fix the first 100 errors only. But the good side about this powerful system utility is it nicely shows the results in tabs labeled as security junk and registry.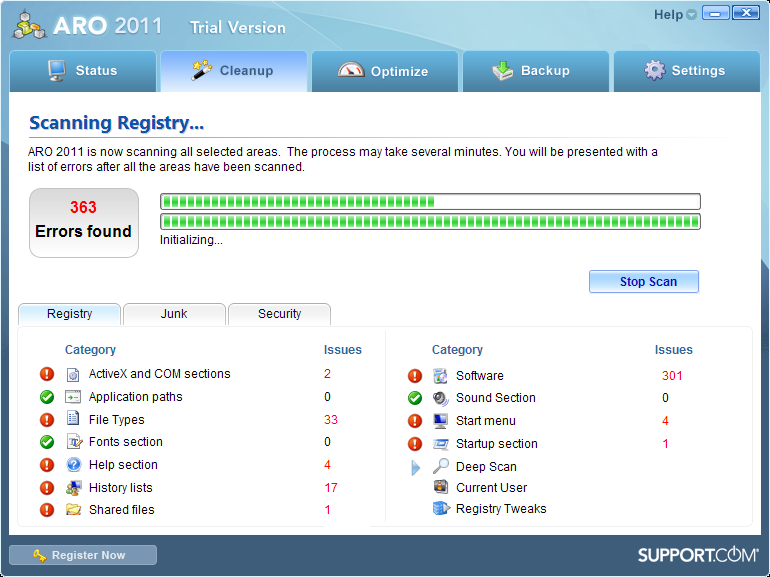 After cleaning the PC with ARO 2011 the result was pleasing. Most of the free PC cleaning software out there are not effective and sometimes causes harm to your PC. But this software successfully managed to clean the PC deeply and without any problem. It asked for a reboot but nicely cleaned the system's registry and tweaked it. Moreover you can create a complete backup of your system before removing anything so that you will be able to restore things whenever you want.
Features of ARO 2011:
Clean system junks like memory dumps temporary internet files and bad shortcuts
Checks your Anti-virus software to make sure that it's up-to-date and working properly
Improves your PC's performance
ARO 2011 is available for download at Sammsoft's official website. There's a trial version available for trying but you have to buy it for $29.95. Try ARO 2011 Free