Clean Junk Files with Find Junk Files
Find Junk Files is a free file utility that helps you to find and delete junk files easily. You can free up a lot of disk space in your hard disk by deleting unnecessary junk files using this freeware. If you are looking for a good free file management utility for deleting junk files Find Junk Files is one of the best options you can think of.
This freeware works very efficiently and can detect more than 100 types of junk files easily. This free junk file cleaner can also detect Windows 3.1 files and DOS and clean them easily. But you will get the freedom to select what files to scan and what files to exclude. This freeware won't damage your system as it does not target any of your system files. But it will remove caches logs and other junk files and folders.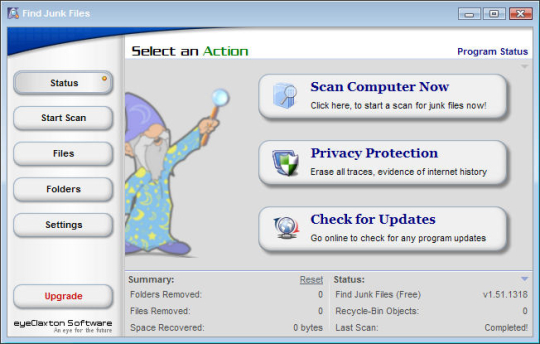 This free file cleaner is really easy to use and comes with an attractive user interface. You will find three buttons on the main menu of Find Junk Files: Privacy Protection Scan Computer Now and Check for Updates. You can remove all the files or you can select the files you want to delete. There is an option for privacy scan too. Overall this free file cleaning utility can help you to clean the junk files from your system easily.
Features of Find Junk Files:
Clean logs caches and other junk files easily
Simple easy-to-use interface
Perform privacy scan
Find Junk Files is available for download at EyeClaxton's official website. It's only 1.47MB in size and supports Windows 7 Vista XP 2003 2008 and NT. Try Find Junk Files Free