From time to time each of us has to work with the same expressions/entire phrases on a regular basis. If you're into data entry or content writing (not limited to these fields only of course) then I am sure you know how nasty it can get to type the same things over and over again right? Speaking for myself all I can say is that I've been there done that hated it fixed the problem. The name of my answer is Clippings an excellent Firefox addon so... let's get to it shall we? :)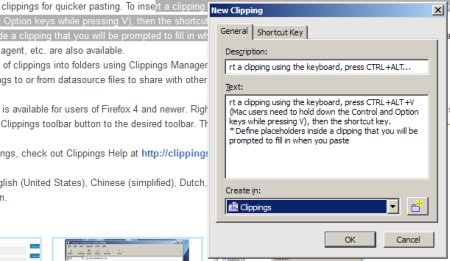 As I write this Clippings has a rating of 4/5 stars on Mozilla.org after 83 user reviews and 309368 downloads. I know it's not a small number but I bet there are millions who would enjoy its advantages! The current version released back on the 14th of February is labeled 3.1.4 and works with Firefox releases from 3.5 to 5.* so there's no big problem in this area either. In fact I think we can easily say there's no big problem with Clippings in any area maybe only the fact that it's not available for other browsers or as a standalone application.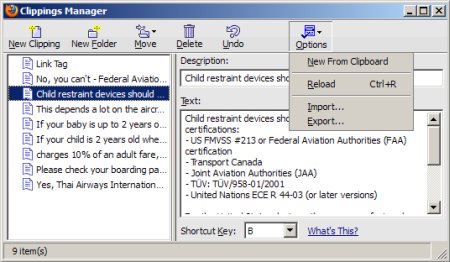 Clippings allows you to easily assign shortcut keys to your clippings defind placeholders organize your collection using a Clippings Manager (pictured above) import and export clippings (no problem if you want to import a clippings file that has been generated on a Linux computer to your Firefox running in Windows in case you were wondering) not to mention multilanguage support - English (United States) Chinese (simplified) Dutch French German Italian Japanese Portuguese (Brazil) Russian Slovak Ukrainian. Awesome simply awesome!!!
Hint: If you like this program that much and you need to use it with some Word document for example here's my advice: import the document in Google Docs open Google Docs in Firefox get the job done OR simply open Word/Excel/whatever open Firefox paste your clippings in a text field in the browser copy switch to your other application paste it there. I know it's not a really straightforward path but at least it gets the job done... and don't forget that it's also available for Thunderbird! ;)