Configure DHCP for Network Access Protection in windows Server 2008
With the release of Windows server 2008 many new features are also included within the operating system in order to make the network infrastructure even more secure. Network Access Protection is yet another feature which can be configured to add an additional layer of security when the network is capable of accepting incoming VPN connections. With the help of Network Access Protection administrators can assign a different set of IP addresses and any other information to any incoming connection requests from a VPN client if the client is not considered healthy according to the policies defined in the configuration. However Network Access Protection configuration is beyond the scope of this section configuration of DHCP server to enable it for Network Access Protection can be done by following the steps even as below:
1.       Make sure that you are logged on to Windows server 2008 computer with administrator privileges.
2.       Also ensure that DHCP role is installed on the server.
3.       Click on Start button and in the search box type DHCP to open DHCP snap-in.
4.       In the opened window expand the server name and from the available tree expand IPv4.
5.       Right click on the available scope and from the appeared menu go to Properties.
6.       On the opened box go to Network Access Protection tab.
7.       Select Enable for this scope radio button under Network Access Protection Settings section.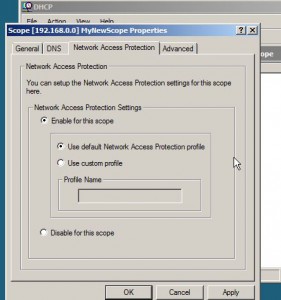 Once done click on Ok button to save the changes and if required to restart the service.