Configure Text Display on Windows 7
When working with Windows 7 it is expected that a user has a TFT or an LCD monitor. To increase visibility Microsoft has designed Clear Type text feature which enables users to see the text clearly as the feature sharpens the fonts. This configuration requires administrative privileges and hence to configure this user must logon with the administrator account on a Windows 7 computer. As an administrator if you want to configure this setting on your computer you need to follow the steps given below:
Logon to the computer with administrator account.
Right click anywhere on the desktop and click on Personalize.
On Change the visuals and sounds on your computer page click on Display link to go to the next page.
On the opened page click on Adjust Clear Type text link and from the opened window follow the instructions provided on the screen. (Configuration from this screen onwards will totally depend on the user's personal experience and choice. Also from here onwards the wizard will guide you through a simple "Next Next Finish"process.)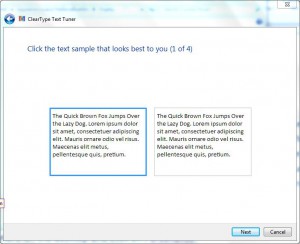 Note:
This feature is only valuable when used with either TFT or LCD monitors. Users who still use CRT monitors should disable this feature to get the optimum performance and clearer display. In order to disable this feature you can uncheck Turn on Clear Type checkbox on Make the text on the screen easier to read page.