Cool Timer: Free Timer Utility
Cool Timer is a free timer utility that comes with simple attractive and customizable interface. This freeware is actually a free 99 hour timer that comes with simple functions like stopwatch and countdown. If you are looking for a simple timer utility for your PC Cool Timer is the best option for you.
You can set your preferred MIDI WAV and even MP3 file as an alarm in this freeware which will remind you with a scrolling message the reason you set the alarm. You can also test an alarm sound if you want from the drop down list and hear the default alarm that comes with this freeware. You will find a text field where you can enter a message for showing you as a pop-up window later with the alarm. This attractive feature can help you to understand the reason you set the alarm.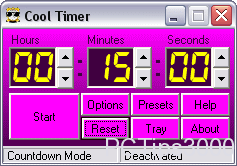 This free timer application comes with a small bright user interface. If you don't like its bright color you can change it and choose a different skin color if you want. You will see two digits of minutes seconds and hours in the window and there are six small buttons and a large button in the main window.
Features of Cool Timer:
Use it like an alarm clock oven timer or stopwatch
Play your preferred WAV MP3 and MIDI files as alarm
Set LED type text message with the alarm
Cool Timer is available for download at Harmony Hollow's official website. It's only 3.48MB in size and supports almost all versions of Windows. Try Cool Timer Free