Copy Your Files In A Smart Way with ExtremeCopy Free
ExtremeCopy Free is a free file management software that helps you to move or copy your files in a smart way. You can copy or move files at a lightning speed as this freeware automatically optimizes the speed based on your machine's capability. If you want to move your files at a lightning speed ExtremeCopy Free is the best option for you.
Normally copying files can be a really time-consuming job and can be really annoying. But you don't have to worry about it as you have ExtremeCopy Free to help you. You will be able to reduce the file moving or copying time easily with the help of this free file copying software. This freeware won't actually move your files at 8x speed like the developers claimed but the speed you will get is good enough for using this freeware.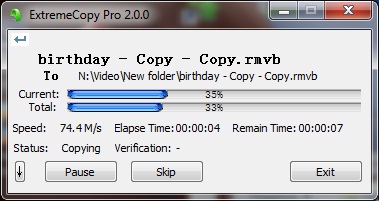 There is only a configuration menu of ExtremeCopy Free and it's very easy to use. You can select from this configuration menu if you want to use it as your Explorer's default copier and want to keep it on top. You can enter log files verify the copied data after completion and close the window automatically after verification. There is also an option available for pausing and skipping so you won't face any problem when copying or moving big files with this free file copying application.
Features of ExtremeCopy Free:
Copy files in a smart easy and secure way
Supports pausing and skipping when copying files
Simple easy-to-use user interface
ExtremeCopy Free is available for download at EaserSoft's official website. It's only 2.1MB in size and supports Windows 7 Vista XP and 2003. Try ExtremeCopy Free