EyeProtectorPro: Free Strech Break Reminder Software
EyeProtectorPro is a free productivity software that protects your eyes from harm that can be caused by long hours of PC usage. This free time management software will remind you about taking a break from PC work at regular intervals. If your work involves sitting in front of PC and you want to protect your eyes from damage EyeProtectorPro is the best software for you.
Most of us spend a lot of time sitting in front of our PC and harming our eyes unknowingly in this way. Spending a lot of time in front of PC's can cause repetitive motion injuries eyestrain blood clots and other eye problems. So if you want to avoid uninterrupted periods mousing and typing EyeProtectorPro is the best option for you. This free break reminder software can reduce headaches eye strain and other health problems.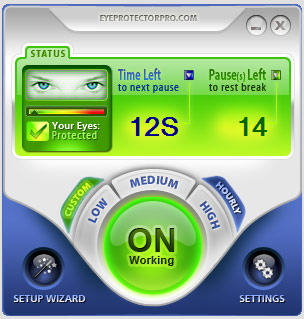 This free eye care software is very easy to use and easy to install. This free RSI prevention software will remind you to take a break while you are working on your PC to protect your eyes from damages. This free RSI prevention software will also remind you to do some light eye and body exercises. It will remind you to look at the monitor from a specific distance to make sure you are not hurting your eyes. You can also change your monitor's screen resolution with just one click with this free eye prevention software.
Features of EyeProtectorPro:
Reduce eye strain headaches and pressure behind eyes
Protect your eyes from damages
Reminds you to take break while you are typing or working on your PC
EyeProtectorPro is available for download at EyeProtectorPro's official website. It's only 9.54MB in size and supports almost all versions of Windows starting from Windows 98. Try EyeProtectorPro Free