CPU Speed Professional: Free Diagnostic Software
CPU Speed Professional is a free diagnostic software that helps you to test and compare your PC's processor easily. You can compare your PCs processor against other users or systems through an online rankings website. If you want to stress your PC using different tests to reveal its weaknesses and strengths CPU Speed Professional is the best software for you.
This free system utility helps you to test your CPUs strength and weakness easily without changing or hurting anything. You can safely use this free diagnostic software with AMD and Intel processors. The tests available in this freeware include four different metrics including Cool Off CPU Ramp Deep Cycle and Core. Once the tests are done you will get to see the results of your machine's processor quickly. You can also submit your scores and share with others and compare with the latest global CPU benchmarks there.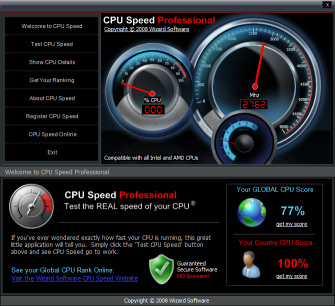 This freeware comes with a simple easy to use interface and you will find it similar to a car's analog instrument cluster. You will find controls in the menu for sharing scanning and viewing the results. If you want to see the accurate results about your processor you can click on CPU details. One of the best feature of this freeware is sharing benchmark results with other users and checking results submitted by other users.
Features of CPU Speed Professional:
Stress your PC using different tests to test your PC
Get accurate benchmark results and CPU details
Share benchmark results with others and compare your results with other users
CPU Speed Professional is available for download at CPU Speed Pro's official website. It's only 1.69MB in size and supports Windows 7 Vista XP NT and 2000. Try CPU Speed Professional Free