Extract RAR and ZIP Files with The Extractor
The Extractor is a free file compression utility that helps you to handle RAR and ZIP files easily. This freeware comes with easy drag-and-drop user interface which means you just have to drag your RAR and ZIP files to add them. If you are looking for a simple free file extracting software for your PC The Extractor is the best option for you.
This free file compression utility supports RAR and ZIP files and you can queue unlimited RAR and ZIP files and this freeware will start extracting them with just a single click. If you have a large collection of archive files you can use this freeware to extract them. Just queue them and let this freeware handle the rest. You can also delete the archive files after extracting them if you want.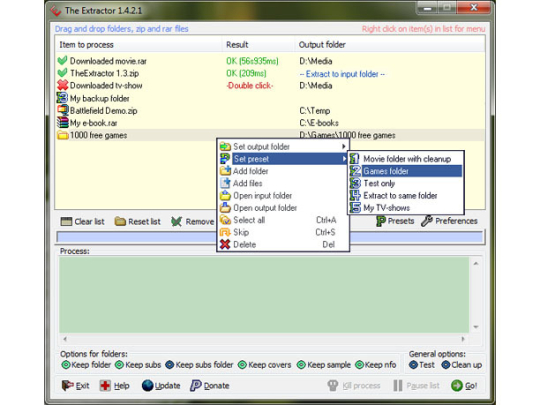 This freeware comes with an easy to use interface and allows you to extract files in a very short time. The user interface is really easy and can be used by almost anybody. Preset feature is another attractive feature of this freeware. You can assign different presets for each task and you can include covers folders and subfolders in these tasks. you can also apply the same folder option manually if you don't want to use the presets.
Features of The Extractor:
Easily extract RAR and ZIP files
Add unlimited number of queues
Delete archive files automatically after extracting
The Extractor is available for download at The Extractor's official website. It's only 1.68MB in size and supports Windows starting from Windows 2000. Try The Extractor Free