CPU-Z: Free CPU Monitoring Software
CPU-Z is a free CPU monitoring software which actually does a lot more than that. If you are doing too much experiments with your CPU like overclocking and underclocking CPU-Z is a must have for you. This software performs a number of searches and tests and then generates a report for you which will save a lot of searching. This free CPU monitoring software records a huge range of information of your system like system memory graphics cache etc. Usually the user has to search all these manually in different places of the PC which takes a considerable amount of time. This freeware even shows the models and manufacturing dates of the devices and the BIOS model. For knowing the DirectX version this is a quick way. This free diagnostic software is very helpful for the gamers to match their PCs with the requirements before buying as CPU-Z presents them all in one place.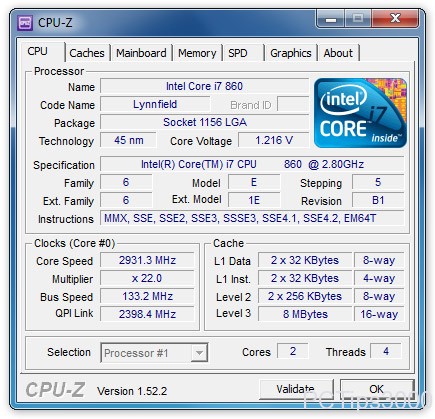 This system profiler does not have any command icon on it clicking which you will execute the tests. Rather it just generates a report in the same folder as a text file. The information is data heavy and if you are not much of tech enthusiast then it will not be very useful for you. The results are all shown in plain text though some graphs and charts would be more helpful.
Features of CPU-Z:
Small in size
Presents a big range of data in a single place
Very fast to analyze any PC
CPU-Z is completely free and it is compatible with all the versions of Windows starting from Windows 95! Though you may lose your interest after watching the huge amount of numbers and letters in the report but there are situations where there is no other easier way available than CPU-Z. Try CPU-Z Free