Create a New DFS Namespace in Windows Server 2008
Although Windows server 2008 DFS installation process allows administrators to create a namespace during the installation itself and in some cases administrators need not to create any additional namespace in the organizations. However in scenarios where several departments work in a single premises and every department has its own sensitive information multiple namespaces might be required in order to maintain the privacy of the data. When this is the case as an administrator you can add an additional namespace to the DFS server by following the steps given below:
1.       Logon to Windows server 2008 computer that has DFS role installed on it.
2.       Open DFS Management snap-in by going to Administrative Tools from start menu and clicking on DFS Management.
3.       On the opened snap-in right click on Namespaces and from the available menu click on New Namespace to open the wizard.
4.       On Namespace Server page click on Browse button to locate a new namespace server and once located click on Next button.
5.       On the next page specify the name of the new namespace and click on Next button.
6.       On Namespace Type page make sure that Domain-based namespace radio button is selected and click on Next button.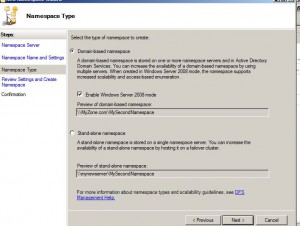 7.       On Review Settings and Create Namespace page click on Create button to create the namespace.