Create Calendar in MS Excel and Work with WinCalendar
WinCalendar is a free calendar management software that helps you to create calendars in Microsoft Excel and Work from scratch. You will be able to create your calendar with important appointment data from your Google and Outlook calendar. If you want to create calendars in your Microsoft Word or Excel without wasting a lot of time this advanced time management software is what you are looking for.
You will be able to use this software directly from MS Excel and Word once it's installed. You will U.S. holidays on the calendar by default but you can change it according to your country from its drop down menu if you want. You can also create fertility and ovulation calendar with this free calendar management software. The calendar configuration options are also easy to handle and is packed with useful options.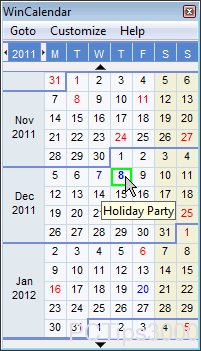 The built in menu of this useful project management software is good but nothing attractive. If you try the free version you will have to accept a watermark on the calendars you create using this tool. You won't be able to remove them without registering this software. You will find more than 60 different calendar layouts in this software and the latest version supports importing data from MS Outlook calendar.
Features of WinCalendar:
Create calendar in MS Word and Excel from scratch
Import appointment data from Google Calendar MS Outlook calendar
60 attractive calendar layouts
WinCalendar is available for download at its official website. It's 5.64MB in size and supports all versions of Windows. Try WinCalendar Free