Create Effective Movies and Videos with PhotoFilmStrip
PhotoFilmStrip is a free image editing software that can be used for creating movies with your images by following three simple steps. You just have to select your images set the correct motion paths and start creating video in your preferred format. If you are looking for a good free slideshow creator for creating wonderful slideshows with your images PhotoFilmStrip is the best option for you.
You can add nice background music with audio tracks or add comments in subtitle fields and create a wonderful slideshow with your images. The effect used in the slideshow is known as "Ken Burns" and is named after Filmmaker Ken Burns as it follows the historical documentaries created by him. This free slideshow creator uses your still images for creating movies. Once you are done creating movies you can save them in different video format including full HD.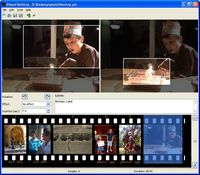 This freeware comes with an attractive easy-to-use interface and you will find a How to Start page when you open PhotoFilmStrip for the first time. You can open an existing project from there or start creating a new project. You will find help for all the steps available in PhotoFilmStrip so there is nothing to worry about. You can make a picture move with this freeware and add various effects to them. You might have to use this freeware for sometime to get a hold of it but it's really a fun free video production tool that can be used for creating wonderful slideshows easily.
Features of PhotoFilmStrip:
Create movies and slideshows with your images
Add subtitles music and comments to your videos
Save your slideshow videos in multiple formats
Add various effects and transitions
PhotoFilmStrip is available for download at PhotoFilmStrip's official website. It's only 17.17MB in size and supports Windows 7 Vista and XP. Try PhotoFilmStrip Free