Find Duplicate Images with Image Search Pony
Image Search Pony is a free image software that helps you to find duplicate images stored in your hard disk. This freeware is designed to do only one thing and it does it almost perfectly. If you are looking for a free file management utility for finding duplicate files and delete them Image Search Pony is the best option for you.
This freeware can easily find duplicate or similarly looking images easily in your PC. This free duplicate image finder analyzes the information of a picture and creates a fingertip like index for providing a high level accuracy when looking or comparing images. In this way you will be able to find images that are same in resolution size or picture format. This free duplicate file finder can also find similarities in modified or edited images which is another attractive feature of this freeware.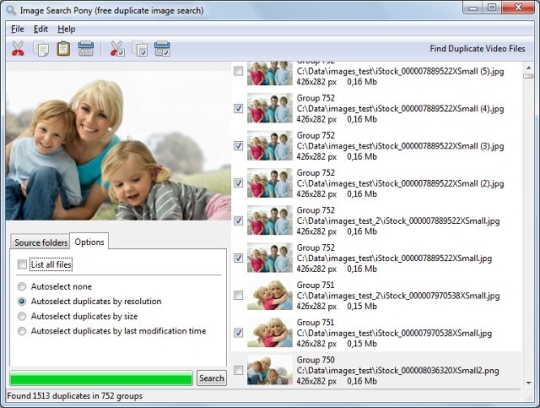 This free image software is really easy to use and comes with a simple user interface. Like I mentioned earlier this tool is designed to do only one thing so it's really easy to use. Once this freeware is done looking for duplicates you can move the duplicates to trash or cut copy paste them wherever you want. That's all this free duplicate image finder can do.
Features of Image Search Pony:
Search duplicate image files easily
Search directories folders and subfolders for finding duplicate images
Simple easy-to-use user interface
Image Search Pony is available for download at . It's only 3.74MB in size and supports Windows 7 Vista and XP. Try Image Search Pony Free