Create New DNS Forward Lookup Zone in Windows Server 2008
DNS server can serve no purpose till it is properly configured. Configuration of DNS server includes appropriate forward and reverse lookup zones settings accurate and precise Host (A) records optionally configured PTR records mapped to Host (A) records etc. Although when active directory services are installed DNS server is also automatically installed and configured however when DNS server is installed on a standalone server or a member server manual configuration is required. The first step in manual configuration of DNS server is creating Forward Lookup Zone. As a DNS administrator if you want to create a Forward Lookup Zone you are required to follow the steps given as below:
1.       Ensure that you are logged on to Windows server 2008 with administrator privileges and DNS Server role is installed on the machine.
2.       Once confirmed click on Start button and from the menu point the mouse to Administrative Tools.
3.       From the appeared submenu click on DNS.
4.       On a DNS Manager window right click on Forward Lookup Zones and from the menu click on New Zone.
5.       On Welcome to the New Zone Wizard page click on Next button.
6.       On Zone Type page ensure that Primary Zone radio button is selected and click on Next button.
7.       On Zone Name page type the name of the new zone and click on Next button.
8.       On Zone File page leave everything as default and click on Next button.
9.       On next page make sure that Do not allow dynamic updates radio button is selected and click on Next button.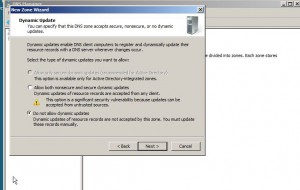 10.   On the final page click on Finish button to create the new zone.