Create New DNS Reverse Lookup Zone in Windows Server 2008
In many network scenarios reverse lookup zone is not at all required. However in some cases where testing and trial process is regularly practiced creating a reverse lookup zone becomes quite essential. Moreover NSLOOKUP command can display appropriate results only when a reverse lookup zone is created. All in all reverse lookup zone works as testing backup for all the DNS Lookups. As a DNS administrator in Windows Server 2008 network environment if you want to create a reverse lookup zone you are required to follow the steps given below:
1.       Logon to Windows server 2008 with the account that has administrative privileges.
2.       Click on Start button and from the menu go to Administrative Tools.
3.       From the submenu click on DNS to open it.
4.       On DNS Manager Window right click on Reverse Lookup Zone and from the menu click on New Zone.
5.       On the welcome page click on Next button.
6.       On Zone Type page make sure that Primary Zone radio button is selected and click on Next button.
7.       On the next page ensure that IPv4 Reverse Lookup Zone radio button is selected and click on Next button.
8.       On Reverse Lookup Zone Name page make sure that Network ID radio button is selected and in the available space provide the network ID for which you want to create the zone.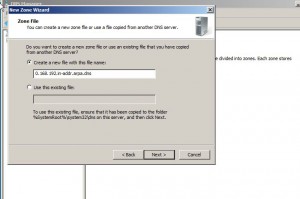 9.       Click on Next button and on the next page again click on Next button keeping everything as default.
10.   On Dynamic Update page click on Next button again.
11.   On Completing the New Zone Wizard page click on Finish button to create a New Reverse Lookup Zone.