Create Notes In Wiki Style With Linked Notes Free Edition
Linked Notes Free Edition is a Wiki style free text editing software for PC that can be used for creating Wiki style notes easily. If you love the Wiki pages and want to organize your notes just like the Wiki pages Linked Notes Free Edition is the best option for you.
The organization system we see in Wikipedia for interlinking pages and adding details about specific things in one page is really attractive. And if you also love the organization system and want to create notes in that way by interlinking pages Linked Notes Free Edition is what you are looking for. You will be able to create and organize your notes in wiki format with the help of this free wiki style notepad. You can create an index when creating notes and easily navigate all your pages.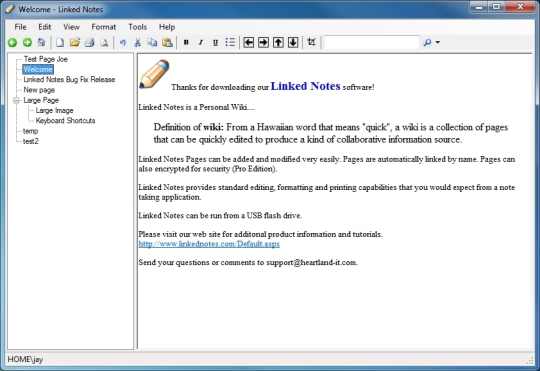 The user interface of this free notepad is very simple and you will be able to navigate all the pages you have created easily with a tree hierarchy. You can click on the new button for creating a new page with your preferred title. And the best part of this free text editing software is links will be created in existing pages when you create a new one. All the basic text formatting features are available in this free personal Wiki software and you can save your notes in TXT or RTF format.
Features of Linked Notes Free Edition:
Create notes in Wiki format
Organize your notes and interlink pages easily
Save notes in RTF or TXT format
Linked Notes Free Edition is available for download at Linked Notes's official website. It's only 489KB in size and supports Windows starting from 98. Try Linked Notes Free Edition Free