Customize Executable Files with PE Explorer
PE Explorer is a shareware application which is used to view and modify the contents of any executable file installed on a computer. With the help of this application users can modify .dll files as well. In all the application is used for reverse engineering or customizing any software application installed on a computer to best fit the requirements of home users or small to large scale organizations. The installation process and user interface of the application is quite simple however basic understanding of programming languages and functioning of any application is essential in order to work with the software. PE Explorer is designed in such a way that it allows users to easily understand the functioning of the executive file and the workflow of the entire application.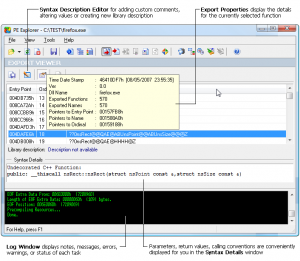 Pros
The software provides several tools right under a single roof which are helpful in modifying and customizing any executable or .dll file.
The application is lightweight and therefore requires very less virtually no processing speed hence allowing users to modify their executable applications without overloading the processors.
Cons
Although the application is developed for ethical uses people with destructive mentalities can use PE Explorer for unethical purposes.
Users are required to have basic understanding of programming languages in order to customize any executable file.
Download Link: http://www.heaventools.com/download/pexsetup.exe