Get Emails Easily with Thunderbird 3.1.9
Thunderbird is a freeware e-mail client application developed by Mozilla. The application is easily downloadable from the website and as simple to install. Unlike other e-mail clients for example Windows mail Outlook express etc. Thunderbird is comparatively easy to configure. In fact users just need to provide their e-mail IDs and passwords along with their display names and they are done. In other words the application allows users to configure their e-mail accounts without going through tedious and lengthy configuration processes. However if users want they can still go through the manual settings in order to configure the application even more granularly.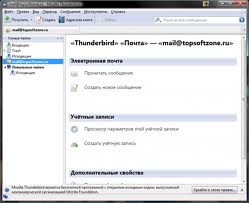 Pros
The application is freeware and users also receive technical support while using the software.
Multiple e-mail accounts can be configured in a single interface of Thunderbird.
The interface is straightforward and therefore is easy to use hence allowing users to interact with the application smoothly.
Users can configure the application either manually or automatically.
The application automatically notifies the users about any new incoming mail.
Cons
Users need to run the application in order to receive or send new e-mails that is the process does not work in the background.
In Thunderbird notifications for new e-mails are prompted right on the desktop which sometimes might obstruct important tasks that users might be doing.
Download Link: http://www.mozillamessaging.com/en-US/thunderbird/download/?product=thunderbird-3.1.9&os=win&lang=en-US