D7: Free System Utility Suite for Pro PC Technicians & Users
D7 is a free system utility suite for advanced PC technicians advanced users and Net Admins. If you are a new PC user using this freeware can get you into trouble and completely damage your system. If you are a tech looking for a command central with a wide range of freeware utilities D7 is the best option for you.
This freeware comes with a lot of attractive features including live and offline malware removal assistance data back offline registry editing RAM/CPU stress testing and quality assurance uses. Some previous project done by the developer is also included in this freeware CheckDisk and DataGrab. There is a tool called Ketarin available for download that can be used for updating all the installed programs in your PC. A lot of freeware apps from different developers are included in this free system utility suite.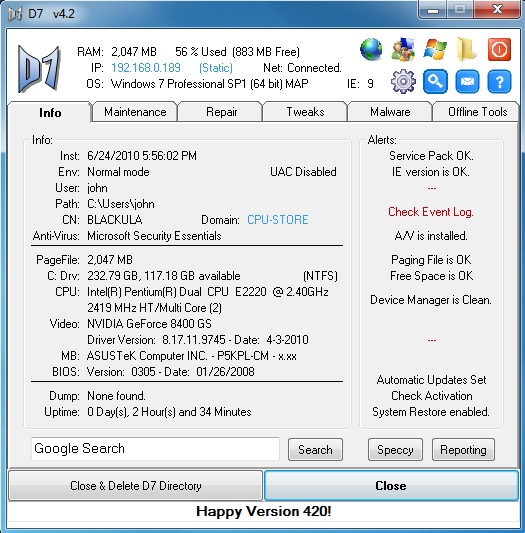 This freeware comes with an easy-to-use user interface and can be used for managing an individual PC or a whole network of PCs easily. You can do things like repairing cleaning tweaking updating customizing restoring maintaining and other things easily. This free system utility will affect the caches registry entries hidden files and other things that can be changed scanned and accessed. You can also retrieve data from offline and live systems for backup with this free system utility.
Features of D7:
A command central for pro PC users and technicians
A bundle of free system utility tools for managing an individual PC or a whole network of PCs
Live and offline malware removal assistance
Data backup RAM/CPU stress testing
Offline registry editing
D7 is available for download at FoolishIT's official website. It's only 3.43MB in size and supports Windows 7 Vista XP 2003 and Server 2008. Try D7 Free