Protect Your PC from Autorun Viruses with Alfa Autorun Killer
Alfa Autorun Killer is a free security tool that can be used for protecting your PC and USB Flash memories from autorun viruses. You will be able to protect your PC from worms adware viruses and other autorun threats that can damage your hard disks and removable drives.
This free spyware remover scans autorun protection center and works as a process manager process manager and startup manager. You will be able to search and destroy all the autorun viruses and prevent unauthorized programs from damaging your hard disk. There are three protection levels available in the Protection Center not protected maximum protection and medium protection. The medium setting is good for preventing the autorun programs damaging your PC but it will not change any settings in DVD or CD-ROM drives. It's a good option as you have to manually insert disks in these drives.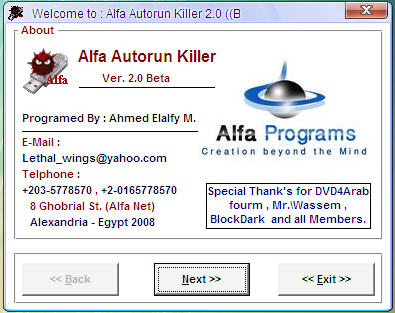 This free spyware removing utility is easy to use and it will stay on your system-tray icon when active. You can scan engine check for updates active automatic processes open program's security tools and check the log files from the main window. Once the program is done scanning it will provide you a detailed information on your system and drives without damaging your hard disks and system.
Features of Alfa Autorun Killer:
Protect your PC and USB Flash drives from autorun viruses
Comes with protection center services manager process manager and startup manager
Three different autorun suppression levels: Medium Maximum and not protected
Alfa Autorun Killer is available for download at Alfa Program's official website. It's only 2.1MB in size and supports almost all versions of Windows starting from Windows 98. Try Alfa Autorun Killer Free