Desktop Hijack Fix: Free System Utility
Desktop Hijack Fix is a free system utility that helps you to fix desktop problems and protect Windows desktop wallpaper and other desktop settings. If your normal background is not coming and you want to get it back you can fix desktop problems with Desktop Hijack Fix. Let's see what this free app has to offer.
Usually we find another image or website when our desktop gets hacked or hijacked. I faced this situation once in my life and it took me a lot of time to get my old desktop back. But you can save a lot of time with the help of this free desktop fixer. You can restore your old desktop settings easily when a software or a website hijacked them. There are several options available to restore your old desktop but most of them are challenging. That's where this free system utility comes in and offers a simple and fast solution.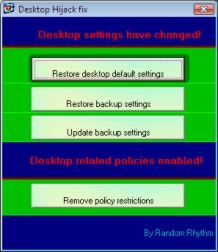 This free desktop repairing tool comes with a very simple and easy-to-use user interface. You will find only three main buttons on the main window backup current desktop settings restore desktop default settings and remove policy restrictions. If your desktop gets hijacked you don't have to worry about it now as you know a good software that can cut through all the desktop issues with just a few clicks.
Features of Desktop Hijack Fix:
Fix desktop problems easily
Backup your current desktop settings and restore them whenever you want
Very simple easy-to-use user interface
Desktop Hijack Fix is available for download at Rhythm Engineering's official website. It's only 4.77MB in size and supports Windows 7 Vista XP and 2000. Try Desktop Hijack Fix Free