CKZ Time Clock: Free Time Clock Software
CKZ Time Clock is a free time clock software that makes employees clock in and out system on PC easy. You don't have to depend on wall clock or use complex programs for managing your employees as CKZ Time Clock is here to help you. Let's see what this freeware has to offer.
There was a time when people or small business owners used to manage their employees with old paper time cards. There are many apps available now to do this job but most of the time clock apps available out there are complex and not all the employees will be able to use that. And that's where this free small business software comes in. this free app is really simple and easy to use so employees with any skill level will be able to use this freeware.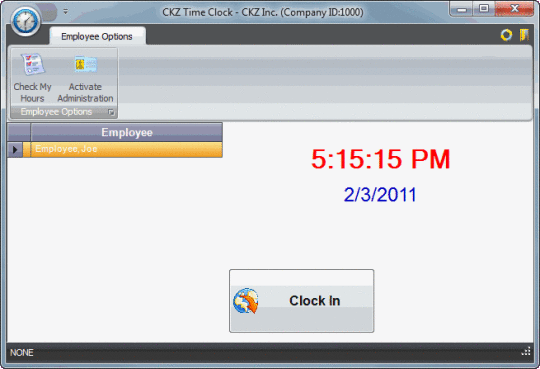 Like I mentioned earlier this free time management software comes with an ultra-simple user intercace. The employee just has to select his name click on the clock for Clock In and Clock Out button and they are done. You will find the list of the name on the left side and the clocks on the right side. Administration feature is not available in the free version so you won't be able to activate it. You can also configure employee system options and payroll with this free small business software. You can run a payroll summary or generate single or multiple employee reports.
Features of CKZ Time Clock:
Manage all your employees easily
Generate automated payroll reports
Simple easy to use user-interface
CKZ Time Clock is available for download at CKZInc's official website. This freeware is only 18.73MB in size supports Windows starting from 98 and the free version supports managing 3 employees only. Try CKZ Time Clock Free