Digital Image Tool: Free Image Editing Software
Digital Image Tool is a free image editing tool that can make renaming rotating and resizing process simple and easy for you. There are many people out there who want to resize rotate and adjust their images before uploading them online. But they leave their images on hard disk or memory cards as they believe the editing process is difficult. If you also believe the same thing then don't worry as you have Digital Image Tool to help you.
This free image editing tool helps you to do basic changes in your pictures to make them perfect for sharing with people online. You can select a lot of images and rename watermark resize and tag them with its easy tabbed interface. This free image editing tool supports converting images to four different formats. You can add custom watermarks on your images add tags on them crop them and perform other necessary actions.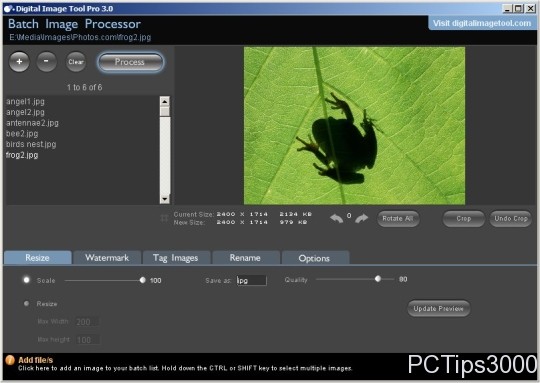 This free image editing software is really easy to use and all the features available in this software are self-explanatory. The features available in this software are nothing new but the bundle of tools is what makes this software attractive. Overall it's a perfect program that can help you to ready your images for sharing them online or storing them on your hard disk.
Features of Digital Image Tool:
Resize crop rotate and rename images easily
Supports batch image editing
Add watermarks and tags
Digital Image Tool is available for download at DigitalImageTool's official website. It's only 5.76MB in size and supports all versions of Windows. Try Digital Image Tool Free